Seasonal products.
At incredible prices!
Reviews. Customers who trust us
Estoy muy contento en general
Como siempre muy buena calidad y cuidado embalaje.
Rápidos en el servicio y calidad en el envio
el servicio de envío rapido
About us. Get to know us better
Hello, my name is Daniel Ruiz. And I come from a family that knows agriculture very well. My ancestors were already farmers.
They bought the first land in Bétera (in the heart of the province of Valencia) in the early 60s. Today it is a family farm. My father, Daniel, doesn't hesitate to lend me a hand with anything I need.
+ About us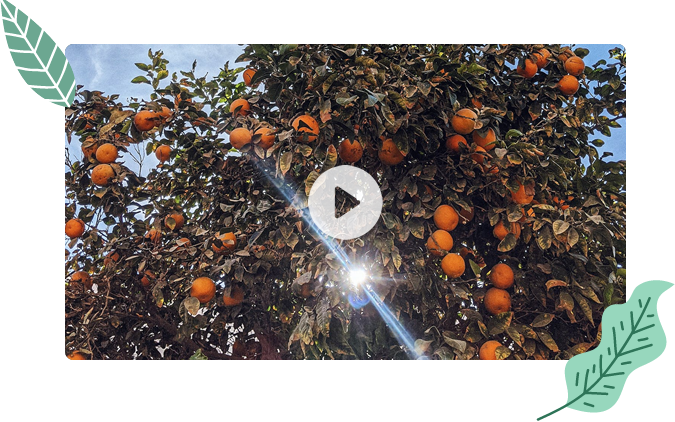 Oranges and tangerines
Buy oranges and tangerines online. This is what we offer at our online store. Freshly picked oranges and tangerines that will be delivered to your house. From the tree to your table in 24 hours and at a fair price.
Cheap oranges delivered to your home that will surprise your palate. Our oranges and tangerines are great for eating or making extraordinary orange juice.
Our oranges and tangerines are picked from our family orchard located in the small Valencian town of Bétera.
Our oranges come from an orchard that has been passed down from father to son for many generations and that is the reason why we can ensure that we offer you traditional oranges, with the taste and aroma of yesteryear.
In addition to being authentic delicacies for your palate, don't forget that oranges and tangerines have a myriad of great properties that will benefit your health and your family's health.
The Valencian Orange
The best orange is grown in Valencia. More than 90 percent of the oranges consumed in Spain come from Valencia.
The climate, the land, and, above all, the good work of the farmers of the Valencian Community are responsible for the high-quality seasonal fruit that is produced.
In addition, oranges and tangerines from Valencia are exported all around Europe and the world. There are tons and tons of Valencian oranges that are delivered to the most important European markets. Everyone is looking for the quality of traditional Valencian oranges.
They are traditional because they are oranges that come directly from the farmer. That is why they retain all their aroma and flavour.
Advantages of buying oranges online
Buying oranges online directly from the farmer has many advantages. First of all, thanks to new technologies and speedy deliveries, buying oranges online is very easy.
You just have to type your email address, choose the pack of oranges or tangerines that you want, make the payment and they will be delivered to your house in 24 hours.
They are fresh oranges and tangerines. Our warehouse is the tree.
With these oranges being delivered directly to your home, anyone, no matter how far away, can taste the best oranges in Valencia.
In addition, you can buy any amount of oranges. They will arrive safely to your house. You don't have to worry about carrying them home. We take care of it.
And, of course, you can be sure that you have bought high-quality oranges and tangerines.
As you can see, buying oranges or tangerines from home has many advantages.
Properties and benefits of eating oranges and tangerines
At Naranjas Daniel we are sure that what you are looking for when buying oranges directly from the farmer is a great aroma and flavour. Enjoy one of the most appreciated fruits in the world. Citrus fruits of unparalleled quality. It is the first thing you are looking for. Enjoy eating these oranges and tangerines.
But, in addition to its aroma and flavour, have you ever considered eating oranges and tangerines for the many properties and benefits that oranges and tangerines have for your health and your family's health?
Oranges and tangerines are known worldwide for their high amount of vitamin C. This vitamin prevents colds and flu. They prevent these diseases, they do not cure them. But there is more, much more.
They are also rich in vitamin B1, B2 and A. They contain copper, sulfur, and potassium. All of this together will ensure that your body is always in full swing.
They have anticarcinogenic properties, help regulate cholesterol and they are a magnificent antioxidant. In other words, oranges and tangerines will take care of each and every one of your skin cells. They will delay aging and take care of your skin. If you want to know many other benefits of citrus fruits, we recommend that you read this article.
Don't stop eating oranges and tangerines
Never stop eating oranges and tangerines. Eat them during their harvesting season. Eat them from Valencia. They are close to your home. They are collected at their exact point of maturity. They do not have to travel thousands and thousands of kilometers and this ensures that they will have all that aroma and flavour that you are looking for when you get them. You will be able to take advantage of all of the properties of oranges and tangerines.
We have told you all about oranges and tangerines. The only thing we have left to tell you is that if you have any questions, please call or send us an email. Our response will be lightning fast. And, by the way, once you get our oranges and tangerines, we would like to know what you think about them, so be sure to leave a review to tell us what you think.
Tiempo de carga: 0.062 segundos